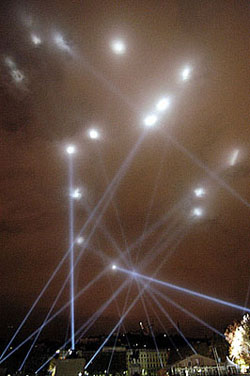 Description
Between December 3 and 10, 2003 this website allowed you to design enormous light sculptures in the sky over the city of Lyon, using 18 robotic searchlights placed around the Place Bellecour. The beams of light were visible at a distance of 15 kilometres; every twelve seconds a new design was displayed as it arrived from the Internet.
The website includes a program with a virtual model of the Place Bellecour where you can direct the searchlights and view the resulting matrix of light from any angle. The site also presents a live broadcast from four video cameras placed at the Basilica, Hôtel Dieu, Royal Lyon Hotel and the Rectangle (now showing a recording). The system made a web page documenting each design and wrote an email to the participant when it was done; these pages can be visited in the design archive section.
This version of "Vectorial Elevation" was commissioned by the Fête des Lumières in Lyon, France and was sponsored by the Ville de Lyon, EDF and NumériCABLE. GL Events is the production company.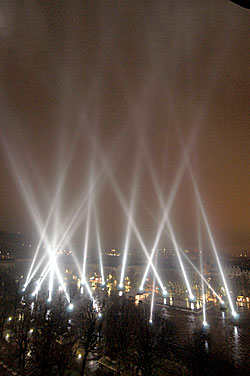 The installation "Vectorial Elevation" was presented for the first time at the Zócalo Plaza in Mexico City for the year 2000 celebrations. More than 800,000 people from 89 countries visited the web site in a two-week period. In 2002 the project was set up again in the city of Vitoria-Gasteiz for the opening of the Basque Centre for Contemporary Art, Artium. The site was visited by almost 300,000 participants from 63 countries, who downloaded more than 3.5 million files. In Lyon, over 600,000 visitors downloaded over 6.5 milliion pages, with 81% of the traffic originating in France.
The piece has received a number of prestigious electronic art awards, including the Golden Nica at the Prix Ars Electronica 2000 in Austria, a distinction at the SFMOMA Webby Awards 2001 in San Francisco, an Excellence Prize at the CG Arts Media Art Festival in Tokyo and a Trophée des Lumières in Lyon.